We take advantage of the distinct properties of stainless steel, aluminum, and titanium to manufacture building materials for construction and civil engineering projects and carry out integrated operations from the design and manufacturing to the construction and supervision of large-scale structures, industrial equipment, environmental-related equipment and more.
FLOOR (Stainless steel flooring)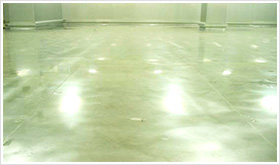 FLOOR (Stainless steel flooring)

Exceptionally watertight and dust-resistant flooring
As our stainless floorboards are attached using a welding method, they are exceptionally watertight, allow no leakage under the floor, and are ideal for flooring washed with water or chemicals.
Extremely hygienic
As this flooring inhibits the propagation of bacteria and microorganisms, it is perfect for floors that need to maintain a constantly hygienic and clean state, such as those in food processing plants.
A level floor surface
Maintenance-free
With a heat resistant surface that is difficult to scratch, this floor is highly durable and exceptionally resistant to corrosion.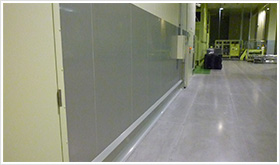 Stainless steel flooring construction method (Patent acquisition No. 3935173)

Accuracy of floor levelness
This method offers easy level adjustments for joists as well as a high degree of accuracy when obtaining levelness.
An extremely "clean" welding line
By employing a plasma welding method that does not use a welding rod, no protruding welding line is created as a result.
Reducing the period for construction
Plasma welding's speed is approximately twice as fast as Mig welding, achieving a shortened period for onsite construction.
ROAD RELATED EQUIPMENT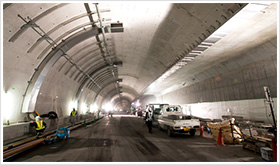 Tunnel common hardware

Common hardware for fire-fighting facilities
We deliver materials suited for use in even extreme environments. Our stainless steel channel materials undergo bending in keeping with the tunnel's curves.
Stainless steel racks for snow melting system installations
This is an example of a stainless steel rack manufactured for a tunnel snow melting system. L-shape stainless steel angles have undergone bending in conformance with the curves of the tunnel.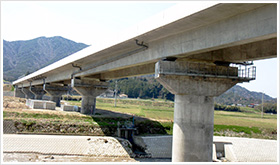 Road expansion sealed joint catch basin

Bridge expansion sealed joint materials
This is a catch basin for draining rainwater to the gutter of road expansion sealed joints. It uses stainless steel that is exceptionally weather-resistant and difficult to stain.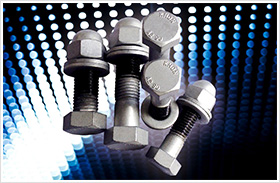 KHDN bolts

High strength Tensile strength ranking equivalent to 9.8
When bolts rust, their load bearing capacity is diminished. Through our material development, we were able to raise the strength of the stainless steel in KHDN bolts to deliver a tensile strength ranking equivalent to 9.8.
Not affected by electrolytic corrosion
As the surface has been treated with a dacrotized coating, there is no threat of electrolytic corrosion from contact with different types of metals such as aluminum or zinc plating.
Locking effect
By applying a nylon coating to the screw portion of the bolt, a locking effect is achieved.
This locking effect has been verified by the NAS compliance test and is confirmed to hold even after the bolt has been tightened and loosened up to 3 times.
FACADE (exterior)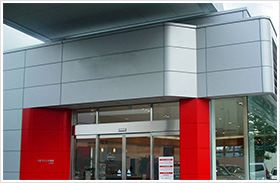 Stainless steel entrance channel collar

Select the precise machining method
This is an example of complicated surface rendering made possible by pressing stainless steel.
Supporting a variety of installation methods
This is an example of a construction proposed and handled by us for various installation methods such as wall-embedded and freestanding types.
Equipped for mass production
We are able to support mass production directed at 1000s of shops such as that for car dealership entrance channel collars.
Lighthouse exterior panels

Laminated steel plates
Our laminated steel plates provide an example of increasing product weather resistance. In addition to manufacturing stainless steel and aluminum panels, we also provide materials suited to every type of setting.
FENCES & HANDRAILS/EXTERIOR (safety fences/handrails))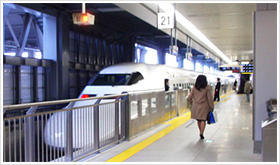 Stainless steel safety fences

Train station platform safety fences
This simply-designed safety fence is made from a combination of stainless steel flat bars and stainless steel pipes. It offers a necessary measure for preventing passengers and belongings from falling onto the tracks as well as for ensuring passenger safety and safe train operation.
Other protective fences
Please consult us about our assorted stainless steel, aluminum, and steel protective fences, balustrades, buffer stops, etc.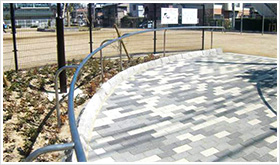 Landscape products

Park handrails
By using a stainless steel material, maintenance is made easy. Our exceptionally workable stainless steel materials for slopes and stairs support a variety of shapes.
Other landscape products
Please consult us about a variety of monuments, clock towers, wood decks, etc.
*Monuments and buffer stops, etc. can be manufactured with ion vapor deposition specifications (colored stainless steel).
PLANT EQUIPMENT (equipment-related products)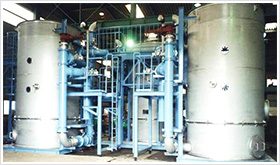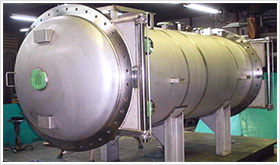 Design/manufacture

A project portfolio covering various fields
From machined goods for civil engineering and construction projects to pressure vessels, large-scale tanks, and heat exchangers in various other fields (chemical, environmental, and energy plant equipment), we can handle a wide range of manufacturing equipment.
An integrated manufacturing system
From designs harnessing the material properties of stainless steel, aluminum, and titanium to project administration, we consistently carry out operations from the standpoint of the customer.
Precise material proposals
For the manufacturing equipment found in each field, we deliver precise proposals regarding environmental application, from material selection up until the actual machining.